Walking with God book (diary) - only $5 including postage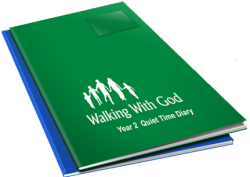 Your order will be placed using Paypal. To start with, select your country.
Select your country
These are A4 size booklets, staple bound in an attractive, hard-wearing cover. All weeks of the year, ready to use.
To order, use the drop down menu below, then click 'add to cart'. You'll be taken to the third-party payment gateway we trust, PayPal, and you can choose how many copies you want and make your payment with a credit card.
Ideal for family devotionals
These "Walking with God" diaries consist of 52 weeks of Bible references. Each day you answer the question, "What could God be saying to me?" There is also a slot on every day to write down a key blessing.
We have tried to make these quiet time books as affordable as possible, without losing money on the printing of them. But if you don't have enough money to purchase one for each member of your family, we would love to help you. Please send us an email by clicking "Contact us" in the top menu.
Download free of charge
Click Download diary pages if you want to print the quiet times sheets.
Print this page